Saffron Building Society has hosted a support group for men called 'The Man Cave' at its Colchester branch.
Saturday 29 June 2019 20:35 Press release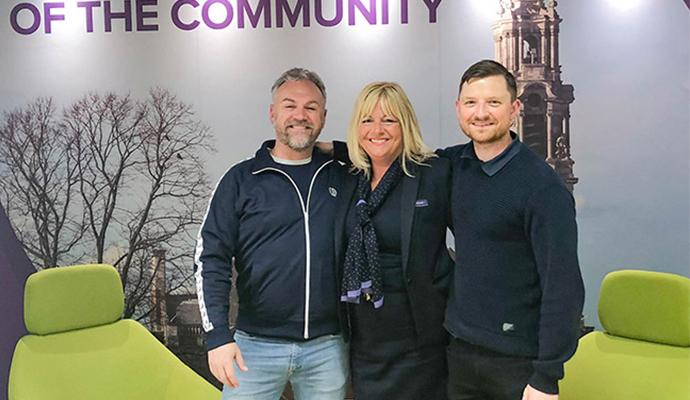 The Man Cave, an initiative put together by men, for men, is led by Colchester businessman Darren Leggett encouraging men to talk about how they are feeling and to understand 'it's ok, to not be ok'.
The Man Cave is a group aiming to alleviate problems that lead to increased mental stress. It helps those suffering from depression, anxiety, addiction, loneliness, issues relating to their sexuality, bullying, matrimonial problems, stress at home or in the workplace. With suicide rates for men in the UK being an increasingly reported issue The Man Cave is designed to listen to and support its members to improve mental wellbeing.
Darren Leggett, founder of The Man Cave initiative said: "The Man Cave allows you to talk or listen to other men going through similar problems in life, you're literally surrounded by support.
We are not professional councillors or therapists, we have had no training on mental health first aid either. We're just guys that genuinely care about the wellbeing of our fellow man and we're seeing some amazing results and lives transformed for those who are part of our network.
We are a non-profit group and the service is offered free of charge - we're extremely grateful to be able to use Saffron's premises free of charge, it's been great to get together as a group like this."
Lisa Howard, Saffron Building Society's Colchester branch manager commented "I first heard about The Man Cave through social media. Their work is truly remarkable and is really helping men here in Colchester and beyond – whether they attend a group meeting or feel connected through the group's social media pages. As a community based building society we've been only too pleased to host them at our branch."
The next group meeting will take place at Saffron Building Society's Colchester branch: 12b Culver Street West, Colchester, CO1 1JG on Saturday, June 29th between 9.30-11am.
More details can be found by visiting The Man Cave, Colchester Facebook page.
Find out more about Saffron Building Society's wider charity work and its Community Fund.