Saffron Building Society is a signatory to the Women in Finance Charter, a pledge for gender balance across financial services. The Charter was established in 2016, following a government review in 2015 which found that women made up only 14% of executive committees in the financial services sector. 
There are now over 400 firms, covering over one million employees, voluntarily signed up to the commitments of the Charter – from global banks to credit unions, the largest insurance companies to the smallest fintech start-ups – with headquarters in the UK, USA, Europe and Asia.
Full list of signatories please click here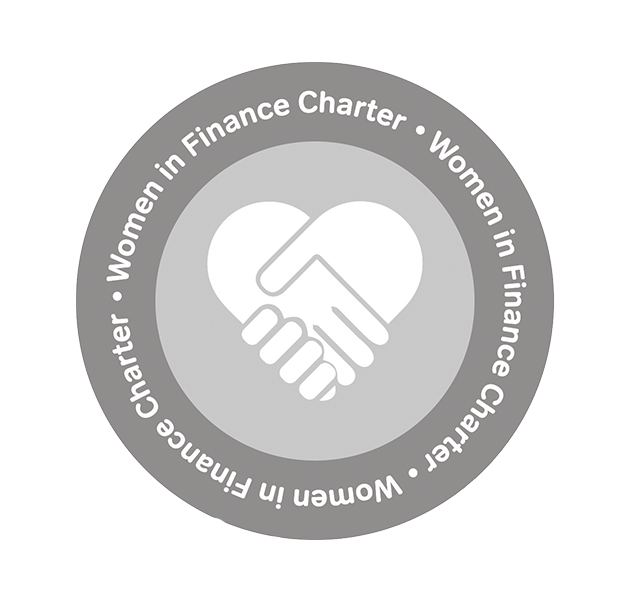 The Charter
•    Commits firms to supporting the progression of women into senior roles in the financial services sector by focusing on the executive pipeline and the mid-tier level;
•    Recognises the diversity of the sector and that firms will have different starting points – each firm should therefore set its own targets and implement the right strategy for their organisation;
•    Requires firms to publicly report on progress to deliver against these internal targets to support the transparency and accountability needed to drive change. 
The Charter asks financial services firms to commit to four industry actions to foster gender balance in senior managerial roles:
•    Having one member of the senior executive team who is responsible and accountable for gender diversity and inclusion;
•    Setting internal targets for gender diversity in senior management;
•    Publishing progress annually against these targets in reports on their website;
•    Having an intention to ensure the pay of the senior executive team is linked to delivery against these internal targets on gender diversity. 
To demonstrate our strong commitment to the Charter our CEO, Colin Field, acts as our senior executive responsible for gender diversity.  Our gender diversity targets for September 2025 are:
•    35% women in senior management by September 2025 (senior management being defined as Board members, Executives, and those defined under the SMCR (Senior Managers and Certification Regime) as being Senior Management Function holders, Material Risk Takers and those defined as having Significant Management responsibilities)
•    We propose to link senior executive pay to Gender Diversity targets by including a Gender Diversity measure in the Corporate Scorecard as well as introducing an individual behavioural objective related to gender diversity for our Executive team from January 2024.
Key gender diversity statistics as at 1 September 2023 are:
| | |
| --- | --- |
| Number of staff* in total workforce    (*Permanent contracts) | 179 |
| Number of female staff in total workforce | 107 |
| Female staff as percentage of total workforce | 60% |
| Number of staff in senior management population | 22 |
| Senior management as percentage of total workforce | 12.3% |
| Number of female senior managers | 7 |
| Female senior managers as percentage of total senior management | 32% |
| Percentage of women on the Board | 33% |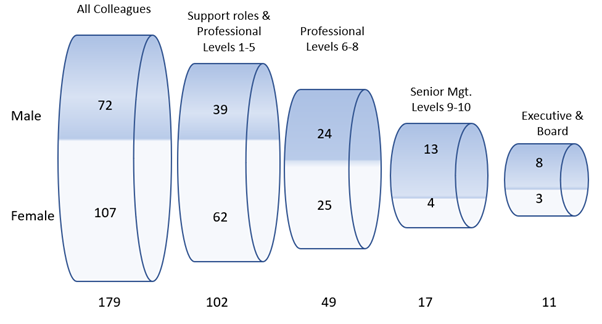 Actions that the Society are exploring to help improve and drive equality and inclusion include:
•    Inclusive recruitment practices including consideration for flexible and hybrid working which we know disproportionately supports women maintain their careers
•    A well established and holistic wellbeing programme which supports our colleagues through a wide range of health and financial wellbeing topics and family-friendly policies.
•    Succession planning and talent management processes with a focus on gender equality and diversity to help build and manage our pipeline of talent and resources for the future.
---
Saffron Building Society operates equal opportunity employment policies.  We do not discriminate on the grounds of a person's gender identity, marital status, sexual orientation, national or ethnic origin or disability in the employment of staff, or in our consideration of candidates for employment at any level.
We work to ensure there is also equality of opportunity regardless of hours worked.  Conditions of service, including pay and staff benefits, transfer and promotion opportunities apply on a fair and equal basis to every colleague.
Want to know more?
You can find out more about Women in Finance on the gov.uk website, by clicking the link below.
Click here to find out more