Our 171st AGM in May was once again a remote affair, which does not provide the same interaction that we know and love of our in-person events. That aside, we did answer your questions submitted via email, and we did go through the usual business. For those who managed to attend, thank you, and we hope you enjoyed the AGM remotely. We are delighted to share some of the things you need to know from our presentations for those that did not.
Wednesday 28 July 2021 09:22 Press release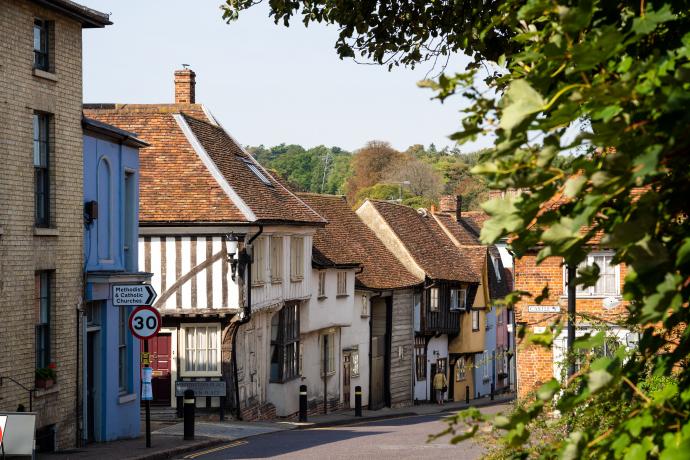 Our Chairman, Nick Treble, began proceedings for his first since being appointed Chairman, by starting his speech with a sincere thank you to Geoff Dunn. 
Having the virtual AGM relates to the introduction from Nick well, as he talked about how the society had shifted from an office-centric business to a fully remote operation. Nick celebrated the Board's work, the management, and the team at Saffron for their resilience during this time and the brilliant work that was achieved in the last year. Members had seen little or no disruption to service, including branches who had, whilst adopting formal government guidelines, managed to remain open with a new timetable. Remaining open was vital to ensure you, the members, could access the services you needed and ensure we supported all who had limited access to online services.
Noticeable from the resolutions, two new Board members were appointed, David Rendell and Robin Litten, whose biographies are in the Annual Members Review. Concerns were raised about the diversity of the society, with two female members having left and replaced by males. Diversity is a top priority of the Board and will be continually reviewed, however these appointments were made on the merit of the candidates to ensure the best possible, continued operation of the society. 
Colin Field, CEO of the society, followed with a review of 2020. Colin was quick to praise - once again - everyone involved in the organisation on an incredible transition to remote working – and thanks to members for their ongoing understanding and support. 
2020 was a record year of lending, Colin explained. Although the results in the review reflected a more negative result, it was unexpected and exciting to see the mortgage book grow by a whopping £80m. The future is looking brighter in accounting terms, as the first quarter of the year delivered results that had sustainably countered the impact of 2020. The society is now poised for a solid year.
2020 also saw the launch of a new company, Saffron Mortgage Finders which aims to provide mortgage customers with excellent support and guidance on finding the right mortgage for them. We will continue to support this new venture in 2021.
Colin commented on the effects of the pandemic: "We have learned valuable lessons through this pandemic experience, and we have already adapted our policies for flexible staff working and we will be making changes to our premises to support a demand for future way of working that will be both more hybrid between home and office and in terms of core hours. I also hope that these changes will enhance our Member Service."
Colin was followed by our CFO, Trevor Slater to talk about the financial situation of the society at the end of the most unpredictable and potentially difficult year of our lifetimes.
In his report, Trevor discusses the material loss and how this came to be in a year that saw unprecedented growth for the society. Trevor explained that further explanation was available in the annual review but shared the optimism of Nick and Colin as he talked about 2021.   
The economic signals in the UK remain mixed, but the society is in a strong place. The mortgage earning is higher, we have a healthy pipeline, and savings remains strong. Longer-term interest rates are – slowly – starting to creep up too. To ends his speech, Trevor comments:
"So, to end on a positive note, the first 3 months trading they year have been really strong and had delivered good profitability, the pipeline of mortgages is high, house prices are holding up and long-term interest rates are increased so all in all we can look forward with a lot of optimism. And I would finally like to give a big thank you to all our staff who have been really positive and resilient over the last year and hopefully this year we will see the hard work translated into a very different set of results."
Your Questions:
The society would like to thank all members who submitted questions to the Board. The answers to your questions were provided by Colin, Trevor, and Board member Jenny Ashmore. The questions related to Diversity (Jenny), Finance (Trevor), Ethical and Environmental policies of banks with whom we have a relationship and CEO pay (Nick) and Staff Pay (Colin).
Details of the questions and responses are available for all members to review.
Formal Matters and Resolutions:
All formal resolutions passed with unanimous results. The annual member's review will contain the information required and is available on request.
Conclusion:
Positivity for the new operating year is the backbone of where we are in 2021 to date. With the extremely positive first-quarter countering any negatives of last year, and light at the end of the tunnel with vaccinations and testing ramped up, the society can now move forward and continue the growth in the mortgage book.  As restrictions continue to lift and our teams convert to a flexible working, hybrid model, we are optimistic that customer service and member support will continue to be good, if not better, than before.
Colin confirmed that once restrictions are lifted significantly, a member social event will be taking place. It is finally a chance for us to meet face-to-face in two years, so we hope you will all be able to make it along.