Saffron Building Society branch staff and invited guests have enjoyed a Tea Party to celebrate 40 years since the Society first opened its doors for business in Colchester.
Wednesday 28 August 2019 18:45 Press release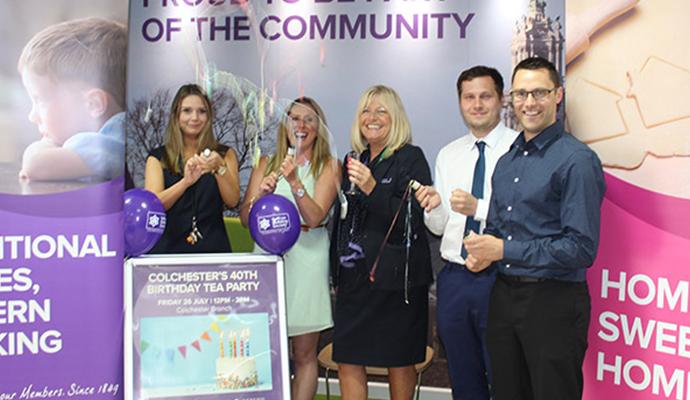 Guests at the Tea Party, held at the Society's Culver Street West branch included local MP Sir Bob Russell, Members of the Society and charities Saffron has supported in recent years including Stepping Stones Play & Learn Group, a local charity for mainstream children and children with additional needs.
Back in 1979 when the Colchester branch opened the UK was a very different place. The average house cost just £13,650 compared to £229,431 today; Sony launched the portable Walkman cassette player and McDonalds Happy Meals were served for the first time - a far cry from what is seen today or a distant memory.*
Lisa Howard, Saffron's current Colchester branch manager comments: "So much has obviously changed in the last 40 years not least the cost of property, but some things do remain the same. Good customer service has always been at the heart of what we do. When it comes to mortgages for instance, we've always looked at the individual's circumstances in detail going all out to find the mortgage that suits them best. Many local people have bought their houses through us over the years because of this."
Throughout its history Saffron has had shown a strong connection to the community with its premises often being used to host local events alongside its core role as a building society. In recent years the branch has been used as a community art gallery, a meeting space for a men's mental health charity as well as a venue for fundraising activities benefitting a wide range of good causes.
Colin Field, Saffron Building Society's CEO added: "We've had a fantastic time marking our 40th birthday here in Colchester. It's been so good catching up with customers, friends and charity partners." Field added "It's great this occasion also links into our 170th Anniversary year as a Society and shows just how this community based mutual building society remains relevant today."
Sources:
* The Guardian + UK House Price Index